Music News
The Triangle Jazz Scene
By: Mark Winston
Any article on this topic has to start by mentioning Branford Marsalis, Nnenna Freelon, and Al Strong. However, now that I have mentioned some area artists in the big leagues, this article will focus on three acts 'in the trenches.' Regularly working bands comprised of people who often also have a day job. They perform their art because doing so is a passion!
Jim Ferris, Doug Largent, and Bruce Smith are three area regulars who seem to fit this category. This article features them in respect and support of their efforts as artists.
Jim Ferris, a Director at SAS by day, plays alto sax, soprano sax and flute and has been performing in the area regularly for the past 4-5 years. He fronted a quartet in Rochester, NY for about a decade. Over the years, Jim has either sat in or had many notable musicians sit in with him. Two he mentioned were Jeff Tyzik from the Doc Severson Band and Pee Wee Ellis from the JB Horns.
I attended a recent performance at a relatively new Morrisville establishment, Travinia Italian Kitchen. As I walked in, the group was playing Green Onions, a famous tune by Booker T. and the M.G.'s. I personally have a limited appetite for the form of Jazz that is musically indulgent where each individual musician takes long meandering and experimental solos. The Jim Ferris Trio was on the opposite end of this spectrum. I enjoyed their eclectic playlist that featured tunes from Van Morrison as well as the Duke Ellington Orchestra. The playlist was generally up tempo and the songs immediately recognizable, even to an old rocker.
www.jimferristrio.com
Doug Largent sat in on keys that evening and also held down the bass with his left hand. Doug is doing music full time and is very well respected in the local community. A UNC-Chapel Hill graduate, Largent picked up the acoustic bass and joined a jazz band under Jim Ketch. He also had the opportunity to play in the NCCU Jazz Ensemble directed by Ira Wiggins. Largent was born here but spent 10 years in NYC. While in NYC he was a full time bass player. In addition to playing clubs, he did a lot of studio work including Disney IMAX movies. Doug's trio includes brothers Brad (guitar) and TJ (drums) Maiani.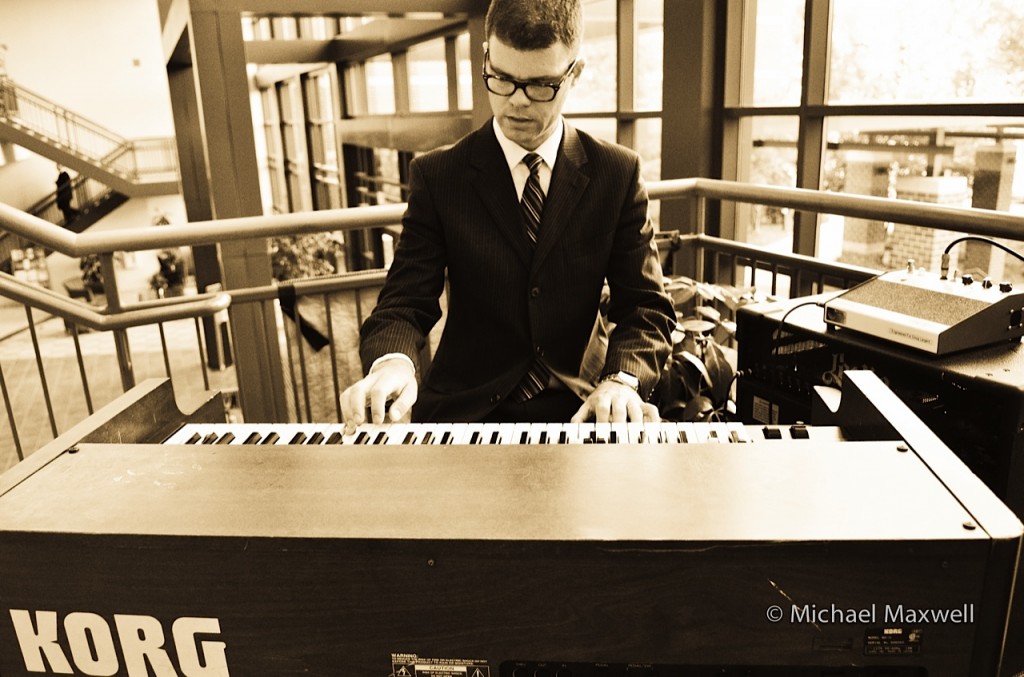 www.douglargent.com
Mike McPherson is a terrific drummer and plays in both the Jim Ferris and Bruce Smith Trios. He spent many years performing in a National Guard Band. Mike majored in percussion at East Carolina University. He is very active, in high demand, and is rumored to be in 4 different bands.
Bruce Smith has been in our area for 11 years. Prior to the relocation, he served as an army bandmaster for over 20 years. Bruce's background includes big band jazz groups and fusion trios that have performed throughout the world. Smith's trio performs straight ahead and contemporary styles of jazz. His goal is simply to entertain a crowd. The group plays both instrumental tunes and songs that feature vocals. The trio's playlist includes selections by Herbie Hancock, Al Jarreau, Bill Withers, Miles Davis, and Sonny Rollins. The songs are intended to appeal to music fans whether they are jazz enthusiasts or not. The Bruce Smith Trio also features Larry Marynak on saxophone and woodwinds.
www.smithjazzproductions.com
All of these acts would be a good selection for an elegant private event. In interviewing the artists, here is a partial list of their favorite haunts where you can catch them perform.
C. Grace, The Irregardless Café, and Brassa Steakhouse (Raleigh)
All are fine establishments where you can see jazz acts. C. Grace is very popular with music fans and sports a 40's Cotton Club like atmosphere.
The Broad Street Café (Durham)
This venue is know to give upstart bands a chance and has a strong jazz following.
The Blue Note (Durham)
Ben Palmer Hosts Jazz Jam Session (Open Mic) on Monday Nights
The Standard (Chapel Hill)
This venue is super supportive of artists. Bands who bring people in are rewarded. Great food and signs on the sidewalk all create a warm and supportive artist environment.
The Station (Carrboro)
Catch The Doug Largent Trio every other Thursday from 7:00-9:00 PM
Travinia Italian Kitchen (Morrisville)
Travinia supports the jazz scene and is bringing in the top groups on Wednesday nights. Bands tend to play later in the evening and are asked not to be too intrusive while patrons are dining. They offer ˝ price cocktails and the food is getting great reviews. I would recommend this to anyone looking to have a classy evening with friends or that special date.
Unwine'd Wine Bar (Cary)
A distinguishing feature is their collaborative presentation of jazz and fine art. The place is becoming a big draw on the weekends.
Notable Jazz Resources / Events
The Art of Cool Project is a jazz presenting non-profit organization located in Durham, NC. They are dedicated to presenting and promoting live jazz (and related music) in unique venues throughout the Triangle. They strive to cross artistic, economic, and cultural boundaries to bring together a diverse mix of people and creativity all while providing a great night out. The project is dedicated to promoting the local vibrant and varied music and art scene.
http://theartofcoolproject.com
The 3rd Annual Apex Jazz Festival is taking place on 9/21/2013. WNCU 90.7 is a supporter and an on air source for jazz programming. The Carolina Jazz Festival promotes a broad range of programming spanning performance, education, and scholarship. In addition to appearances by students and faculty from the UNC Jazz Studies program, this past February the 36th annual festival featured performances by the Dafnis Prieto Sextet, the North Carolina Jazz Repertory Orchestra, Artists in Residence Claudio Roditi (trumpet) and Michael Dease (trombone), and jazz students/faculty from Duke and NCCU.